Welcome to The Marked Blog Tour stop at Verb Vixen! We're delighted to have an exclusive interview with Inara Scott as well as a chance at a copy of The Marked, the second book the The Talents series (formerly known as Delacroix Academy). Not sure you if you want the book? You do, just read my review of The Marked here.
Now let's get to it and hear from Inara herself:
1. A sequel is never an easy task. What was the biggest challenge you faced in writing The Marked?
Oh man, there were lots of challenges! I'd say that the hardest part was trying to balance listening to the readers who had just finished The Candidates and had lots of suggestions for book 2 (!), and not listening too much. Some writers say they never read reviews. I am definitely NOT like that. I care deeply about what my readers think, and learn a ton from reading reviews and listening to readers. But I also know the book I need to write, and I know my characters better than anyone else, so to some extent I have to ignore what readers are saying. It's very hard to strike the right balance. 
2. What was on your playlist while you were writing and what was your go to snack or reward?
I have a hard time listening to music while I write. If I listen to anything, it has to be in another language (that I don't speak!) so I don't get distracted by lyrics. For example, here's one of my favorite French tunes: 
I listen to this album over and over when I'm writing! 
3. The Marked finds Dancia growing more confident. She becomes more of a leader, can you talk a little bit about her evolution from book 1 to book 2?
It's important to remember that Dancia was 14—just finished eighth grade—when book 1 begins. Though I want people to recognize her strength, I also want to make sure they understand that she's a real person, who has a real evolution over the course of all three books in the series. At the end of book 1, Dancia is finally able to accept who she is and embrace her talent. In book 2, she continues her journey and emerges as the leader she has always been meant to be. 
4. I love the morality aspects of the series and there's quite a few interesting questions about right and wrong, good and evil that come up. What is Dancia's governing principle that guides her decision making?
What a great question! I will be sure to call you when I'm making my study guide, okay? :-) 
This series is really about the difficulty of making choices in a flawed, dangerous world. In book 1, Dancia asks Grandma for advice about a choice she has to make, and Grandma tells her to trust her instincts. Dancia replies, 
"Grandma, how do you know what your instincts are? I mean, what if you have two different instincts? What do you do then?" 
To which Grandma replies, 
"I suppose there's no good answer to that, Danny. I wish there was. But if you take the wrong path, something deep inside you will feel twisted. There are times when that will be the only way to know the right from the wrong." 
More than anything else, it's that voice inside her heart that guides Dancia. I think that's what guides us all. 
5. We've found out more about enemies outside of Delacroix and there are definitely shady characters within the walls. Which is the bigger threat to Dancia and friends?
Did you really think I was going to answer that? Ha! Let's just say that the threats are everywhere. Dancia is going to have to struggle to find anyone she can trust. 
6. Who would you pick: Jack or Cam?
As the author, there's no picking between them. I love them both. But to give you some answer to your question, the best way I can describe how I feel about them (without giving anything away) is this: You know the Chinese symbol for yin and yang? That's Cam and Jack. Two boys, one circle, parts of both in each. 
I'm not saying who's black and who's white. ;-)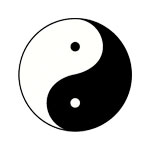 That concludes our interview, so now go read The Talents and pre-order The Marked!  OH and definitely ENTER THE GIVEAWAY!
Giveaway entries:
Please leave links to each that you complete in a comment and please be sure to include your email! 
Mandatory: +1 for leaving a comment on this post
+1 for liking this post
+1 for liking Inara Scott on Facebook
+1 for following Inara Scott on Twitter @inarascott 
+1 for tweeting about the giveaway: "I want to win The Marked by @inarascott from @verbvixen!" (This can be done daily).
Rules and Regs: Open to U.S. and Canada only. Winner will be chosen at random by a random number generator at the conclusion of the giveaway on April 27th at 12:01 am. Winner(s) will be contacted by email 48 hours after the giveaway ends. 
Thank you to Inara Scott and Disney Hyperion for allowing V.V. to be a tour stop.  Be sure to check out the other tour stops for The Marked for other prizes and exclusive content.
March 6           Murphy's Library, interview
March 9           Chick Loves Lit, interview w/celebration pictures
March 16         The Book Life, guest blog
March 18         Up! Brazil, interview
March 22         Chapter by Chapter, guest blog
March 29         Two Chicks on Books, guest blog from Jack's POV
March 30         Buried in Books, interview
April 2             Michelle & Leslie's Book Picks, guest blog
April 4             The Hardcover Harlequin, interview
April 9             A Reader's Adventure, guest blog
April 12           The Book Cellar, interview questions
April 13           Steamed, guest blog
April 16           Fangs, Felines, Fins, & Fun Fiction, interview
April 20           Icey Books, interview questions
April 27           Good Choice Reading, guest blog
1 note